Uhing – a future-oriented family-owned company
For more than 80 years, our company's history has revolved about future, technologies, and trends. Today, the engineering office founded in the 20th century is a medium-sized company as well as a technology and market leader in the rolling ring sector with more than 60 employees. For several years now, Uhing has also built up a leading market position in the automation sector. We can maintain this position only because we are constantly developing and manufacturing innovative products at our Flintbek site. In our family-owned company, we manufacture our products completely "Made in Germany" ...
As the demands on production and occupational safety were constantly rising, the company's facilities at Mielkendorf used for several decades became too small and inconvenient. In April 2017, we moved to our new site at Flintbek specially designed for Uhing.In our state-of-the-art production line, we use multi-axis CNC workstations. The QA department, equipped with 3D measuring machines, applies approved test methods to ensure that our product lines such as rolling ring drives, linear drive nuts or clamping and locking elements comply with our quality specifications. In the last years, Uhing continuously expanded the rolling ring drive product line invented by Joachim Uhing in 1952 with the Uhing Motion Drive® that features electronic components.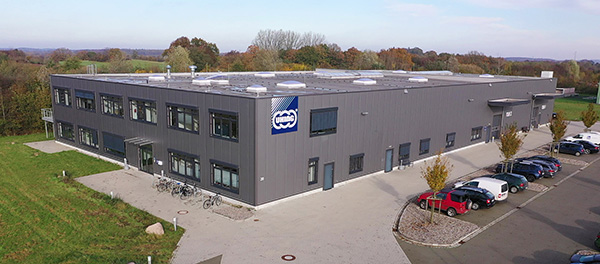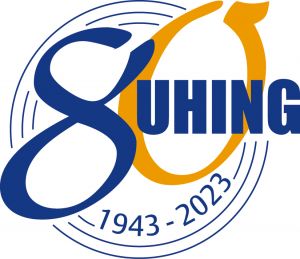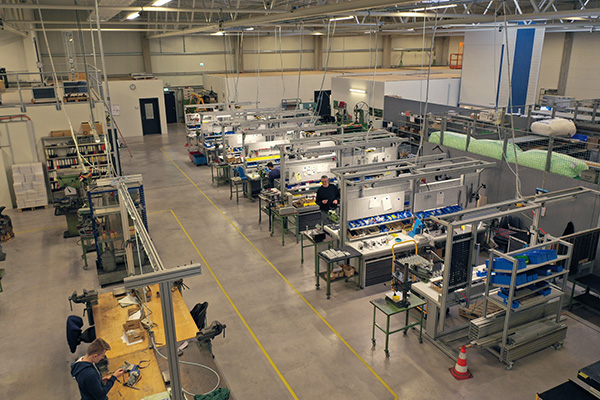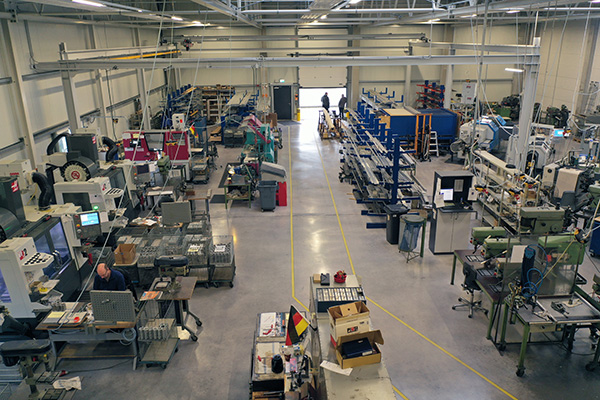 Sales activities and technical support are carried out directly by the company headquarters at Flintbek or by respective agencies. To achieve top results, simulation and calculation programs that have been specially developed for Uhing® are used for these purposes.
As the majority of products (approx. 60% of the turnover) is exported, a worldwide network of agencies was established. Today, trained agents directly support customers in over 45 countries. Regular training of staff and agents keeps up the high level of Uhing's competence to the benefit of all customers.
Uhing History
More than 80 years of company tradition
Close connections to knitting machine manufacturers led to the most important product developed by the house of Uhing in 1952: the rolling ring drive. Being able to mechanically convert the constant rotary movement of a smooth shaft into permanent traversing movements, the rolling ring drive has made the name of Uhing a synonym for this type of products all over the world.
Based on the worldwide patented rolling ring drive, the linear drive nut, a non-positive helical gear without internal switch-over mechanism, was developed in 1983. Benefitting from zero backlash, the linear drive nut soon became a coveted drive element, also for measuring machine manufacturers.
The Uhing easylock® fast-action clamping system marked the entry into a wide range of tool-less clamping and fastening elements for plain shafts in 1992. Although being a renowned manufacturer of purely mechanical products, Uhing started producing electronic peripherals for its rolling ring drives in 1998. The Flange Detecting System FA, for example, became an extension to the rolling ring drive. The advanced Uhing Motion Drive® system is based on an Uhing rolling ring drive extended by sensors and an electronic control unit. The control unit software engineered by Uhing ensures that both components - control unit and rolling ring drive - perfectly match each other. The automation sector has become an integral part of our product portfolio and in developing the Uhing Modular Winder we launched a winder/rewinder whose perfectly matched control system and mechanical components are exclusively manufactured by Uhing.
Another key factor in the automation sector is Uhing's capability of upgrading older systems with state-of-the-art control and software components. The linear drive need not be a rolling ring drive.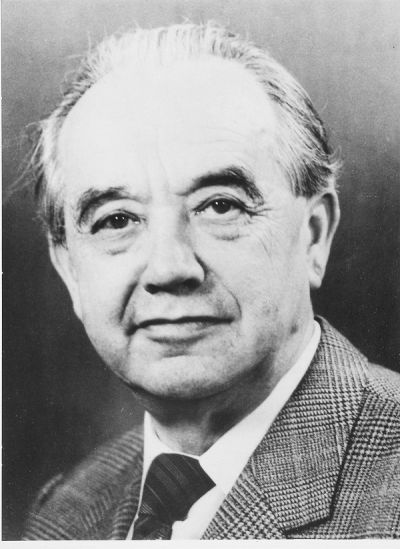 Company founder Joachim Uhing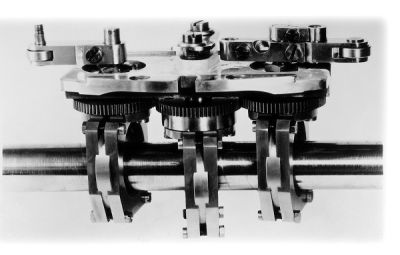 Rolling ring drive from 1952
Training at Uhing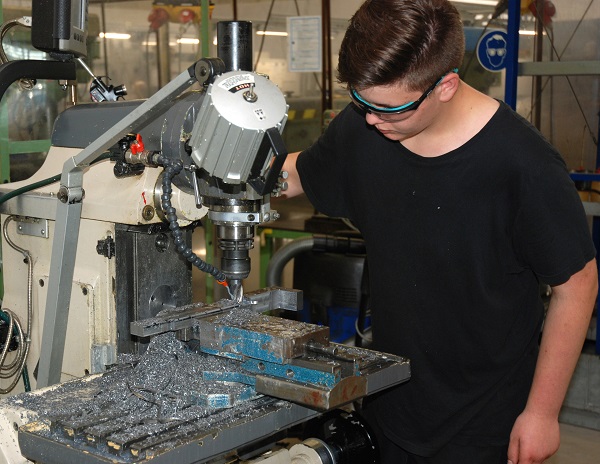 "I like the education I receive at Uhing. It's a great team and I'm learning new things every day."
Simon Liers, industrial mechanic trainee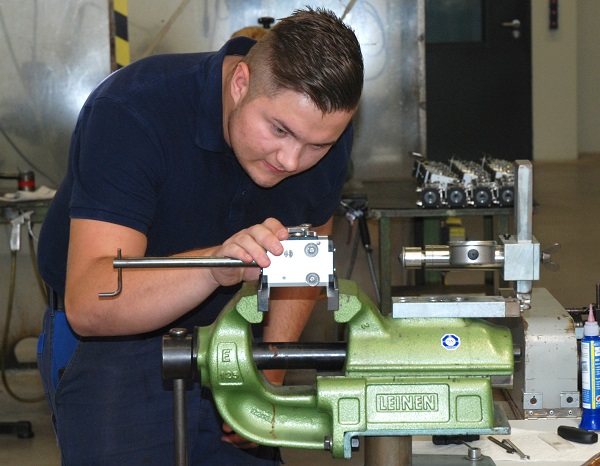 "Craft work has always been a hobby of mine, and I like the versatility of my occupation."
Justin Wiesenhütter, industrial mechanic trainee

For decades, training has been an integral part of Uhing's company philosophy. We regard the certificate for excellent commitment to training awarded by the Bundesagentur für Arbeit a reassurance of our endeavours to raise future experts on our own. Nearly ten percent of our employees are apprentices and are offered, wherever possible, a permanent position in the technical and also the commercial department.

---
The Uhing team
Many employees can look back on decades with our company. Their expertise and enthusiasm fostered the transition from a handicraft to an industrial enterprise, and some of them are now accompanying Uhing into the digital era. All the company's teams are characterised by their competence and commitment.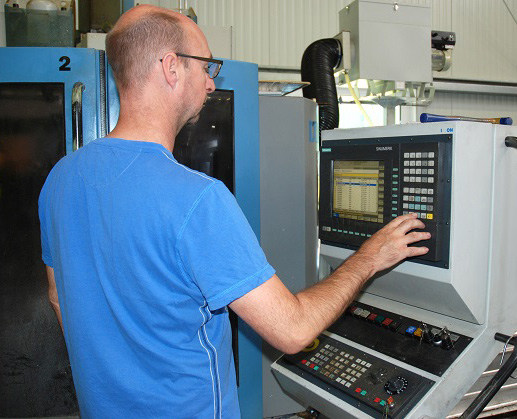 "I've been with Uhing for 35 years now. Apart from the precision products I work with every day, I appreciate the flexible working hours."
Stephan Lücke, CNC operator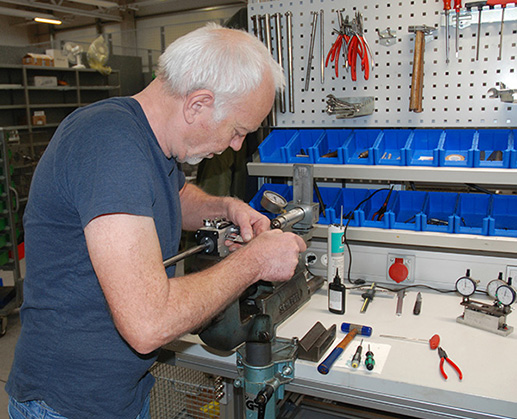 "I've been with Uhing for 40 years and I like the terrific work climate – and the good cooperation with colleagues and management."
Manfred Müller, precision mechanic in Assembly
"I like flexible working hours because this lets me balance my work and my honorary position easily, and I also like the great work atmosphere."
Denise Pollmanns, industrial management assistant, was given a permanent job after her apprenticeship at Uhing.