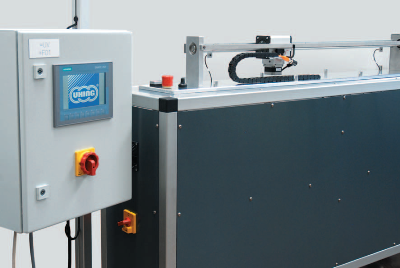 The Uhing Motion Drive® system is based on an Uhing rolling ring drive extended by sensors and an electronic control unit. The control unit software engineered by Uhing ensures that both components - control unit and rolling ring drive - perfectly match each other.
Description of operation
Input and control of parameters for speed, action/reversal points, traversing widths occurs via the convenient touch panel. The function keys are used to access the respective submenus such as motion programmes, task memory, maintenance management, or troubleshooting.
Curious about the new

(UMD)?
Then have a look here: UMD Animation
Areas of application
The Uhing Motion Drive® was designed in particular for winding and traversing processes in the wire and cable industry, and for handling and XY gantry systems.
Other feasible applications are general drive technology processes where a linear motion is required within limits specified by the respective systems.
Advantages
One system to operate the widest range of spool types: rectangular, bi-conical, single conical, etc.
Freely definable winding patterns
Spool types can be stored
Robust and reliable rolling ring drive technology
The Uhing Motion Drive® also offers all the benefits of the tried and tested rolling ring drive technology
No more calibration and test cycles for winding applications
Internal detection/elimination of errors
Multi-station systems are possible
Mechanically compatible with conventional rolling ring drives – they can be converted
Constant speed with different shaft speeds, or different speeds with constant shaft speed
Mechanical synchronisation between winding shaft and "Uhing shaft"
Freely definable motion programmes
Definable action/reversal points
All components compliant with industry standards
Integration into customer's machine controller possible
Flexibly adjustable - nearly all special rolling ring drive variants can be implemented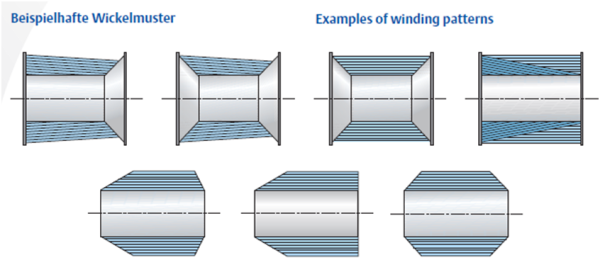 ---
UMD Uhing Motion Drive® media centre
---
UMD Uhing Motion Drive® product video
Press releases
Automation: Uhing Motion Rolling Ring Drive...[read more]
5 Years Uhing Motion Drive® – Enticing Solution for Many Applications ...[read more]
Tried and tested technology – hardly known - reinvented...[read more]
Uhing Motion Drive®: Rolling Ring Drive With Freely Programmable Control Unit ....[read more]
Uhing Motion Drive® in Operation – a Visit to the Customer...[read more]