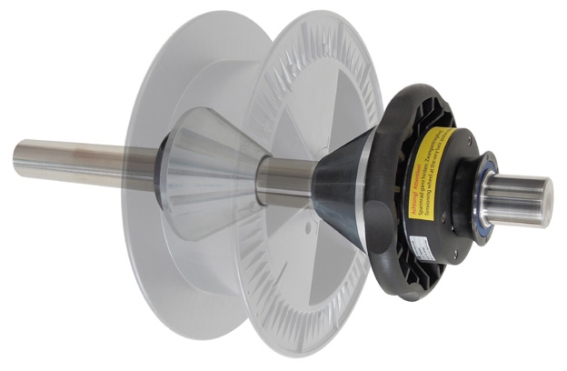 Uhing easylock® - f
ast-action clamping system for rolls, spools and static applications
Fast, safe, reliable:
shortest possible change-over times
also suitable for static applications
modular construction ensures simple adaptation to the task at hand
no tools required
single-handed operation
high clamping forces on a plain shaft
also suitable for use with driven shafts
simple transmission of braking moments to the roll or spool: safe emergency stops
compact, symmetrical design
maintenance-free
resistant against vibration
Easylock® with positive release
Removal from the shaft can be difficult when a residual force pushes against the clamping module after the clamping wheel was fully turned back. Such residual forces occur when a heavy coil still rests on the cone after unclamping, or when coils have expanded during winding.
For such a case, we recommend Uhing-easylock ® with positive release.
The positive release becomes effective when the clamping wheel is turned to its rear limit position. The positive release feature does not affect dimensions, weight and other operating steps, i.e. these remain unchanged.
---
---
Press releases
Fast-action clamping systems for plain shafts – that's how you do it
Changing spools is made easy with fast-action clamping systems for plain shafts. But how do you do this? Pictures tell more than words. For this reason, Uhing published two short on-line videos showing the Easylock fast action clamping system, and its variant, the U-Clip clamping element....[read more]
Uhing at Wire 2012 in Düsseldorf
Tensioning and clamping systems – enhanced product range.
Uhing showcases sizes ELIII 10 and 40 of the Easylock® fast-action clamping system that allows high torques to be transferred to coils and foil rolls on plain shafts. The customer can now choose from lighter and more ergonomic clamping modules in ten different sizes in the 10 to 40 mm diameter range....[read more]