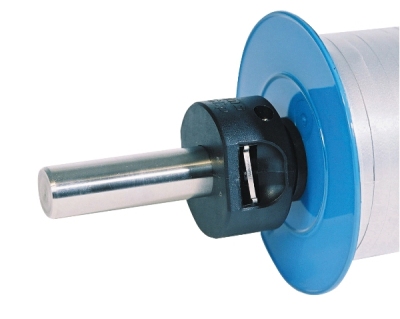 Uhing® U-Clip - shaft collar for smooth shafts / tubes
With Uhing® U-Clip Uhing set aside the easylock® quick clamping system a simple and low-priced alternative.
As Easylock® Uhing® U-Clip is using a clamping ring, too which is offset to the shaft and therefore clamping forces and provided. Like a bushing the Uhing®-U-Clip is pushed forward against the to be fixed component and it automatically locks into position. To release, just pull the clamping ring towards the user.
Areas of application:
Positioning on rotating and non-rotating shafts, e.g. wind-up and pay-off (not appropriate for torque transmission)
Tube to shaft (or tube) connection, e.g. tripods
Fixing components on shafts, e.g. dumb-bell weights
Quick adjustment for material guiding, e.g. packaging machines
Advantages:
Usage on hardened and soft surfaces
Self locking
One hand operation
Symmetrical design
High self locking force compared to ball systems with inclined level
Corrosion protected
Resistant against vibration
---
---
Press releases
Small, powerful, black - The Uhing U-Clip with Elasto Ring...[read more]
Fast-action clamping systems for plain shafts – that's how you do it...[read more]
Uhing at Wire 2012 in Düsseldorf
Tensioning and clamping systems – enhanced product range ....[read more]